An inauguration of the completion of a preschool in Ban Gioc Waterfall in the northern province of Cao Bang's Trung Khanh District was held in January 15. This is a continuity of the charity program run by Sai Gon Giai Phong Newspaper named 'Nghia Tinh Truong Son'.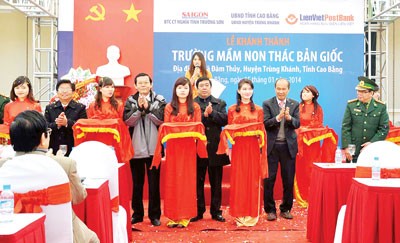 At the inauguration (Photo: SGGP)
The program's sponsor, LienViet Post Bank, has provided VND9.8 billion (US$465,010) for building the school up to national standards.
The school was built on the area of 2,170 square meters. It comprises of five classrooms, four special-use rooms, three reception rooms and a kitchen.
The bank also donated VND300 million to local administration for improvements on infrastructure and development.
Chairman of Management Board, Duong Cong Minh, donated gifts to families, teachers and students during the ceremony.
The bank has so far contributed VND700 billion (US $33.2 million) to other charitable programs in the country.
LienViet Post Bank opened a branch in Cao Bang Town of Cao Bang Province on January 14.
Nghia tinh Truong Son program aims to help veterans, martyrs' families, youth volunteers and ethnic minorities living along the provinces on Truong Son Road. The provinces along Truong Son suffered heavy losses and destruction of infrastructure during the resistance war against US.