The Electricity of Vietnam Group has said that electricity lackage would continue this month, causing power cuts across the country.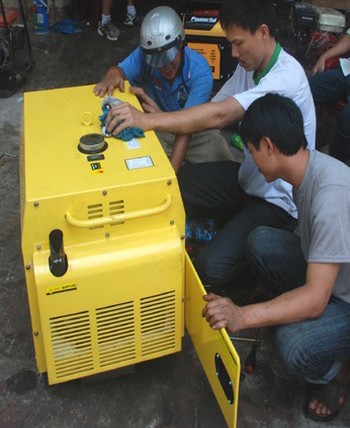 People buy a generator during the time of electricity shortage (File photo: VnExpress)
Fast increasing power demand and low water levels of hydropower plant reservoirs are still the main reasons, EVN said.
In the north, Da River water would be held back to store up water for the massive Son La reservoir, leading water cut off to Hoa Binh reservoir, which is located downstream the Son La hydropower plant construction site on the river, within 20 days beginning May 5, according to the electricity group.
In addition, new thermal power plants in the north have not come into stable operation.
EVN said that it would continue transmitting power from the south and buying electricity from China to supply the north.
Reporting power supply in April, the group said its output was limited to just 270 million kwh a day due to low reservoir and general water levels while power demand peaked 283 kwh a day.
In May, the output will be increased by 5-10 million kwh, to reach 275-280 million kwh a day.

Related articles:
Power shortage weighs down Vietnam
Central residents tiring of power cuts