Dakr' Tih hydroelectric plant, a strategic national construction project worth US$200 million, will be built next month in the Dakr' Lap District of Dak Nong Province by the General Construction Company No.1.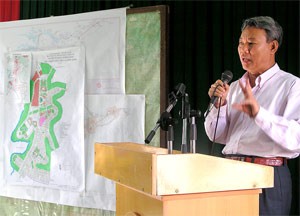 Nguyen Van Chien, general director of the General Construction Company No.1, reports on the Dakr' Tih hydroelectric project
The project is being financed by two French banks, SG and BNP Parisbas, along with investors, and over 70 percent of the capital is coming from BNP Parisbas.
 
The project primarily aims to maximize the use of the natural energy potential contained within the Dong Nai River to supply the national power grid about 614.1 million kWh each year. This project would mark a huge success and catalyst in the socioeconomic development of the Central Highlands.
 
Le Phan Hoai Nam, the director for energy and material assistance of the BNP Paribas bank, said the bank has chosen to finance the Dak r'Tih project because the project belongs to a series of planning strategies aiding Viet Nam's economic development which is highly touted by the government and local authorities.
 
The project is economically sound and has great significance for society and humanity, he added.