Prime Minister Nguyen Tan Dung February 23 signed a decision to raise the electricity rate to VND1,242 per kWh.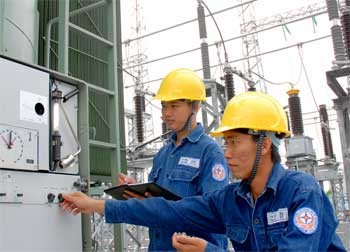 Electricians check a power panel in Ho Chi Minh City
This rate is not inclusive of value added tax and is VND165 higher than the applicable rate in 2010.

The new electricity tariff will apply from March 1.

Under the new tariff plan, poor or low-income households will receive VND30,000 as support for the first 50KWh consumed each month.

The PM has assigned the Ministry of Industry and Trade (MoIT) to calculate and announce details of prices applicable to different groups of customers.
The MoIT was asked to work jointly with the Ministry of Finance to oversee the implementation of the tariff plan in 2011 and to evaluate the impact of the hike on manufacturing and people's daily life while proactively adopting necessary measures to stabilize the power price.
The two ministries will coordinate with the Electricity of Vietnam (EVN) to set a plan to ensure financial integrity in the power sector based on the new tariff and submit its plan to the PM for approval.
According to MoIT, with the new average price the total power cost will increase by VND19 trillion in 2011.

The hike will directly push the consumer price index by 0.54-0.72 percent, of which the production sector is estimated to pay additional VND9.6 trillion for power costs. This will jack the cost price of products by 0.02-9.03 percent.

The administrative sector is expected to pay a further VND832 billion.

Economists believe that Vietnam's electricity prices are currently one of the lowest in the Southeast Asian region at 5.2 cent per kWh.

They felt the low power price was the main reason investors were discouraged from investing in power projects which has resulted in power shortage in the past.
Electricity production is expected to total 117.6 billion kWh this year.
It is forecast that the country will lack by two billion kWh of electricity during this dry season because of severe water shortage.