Continuous power cuts during the intensely hot weather of late have drastically affected people's lives and businesses.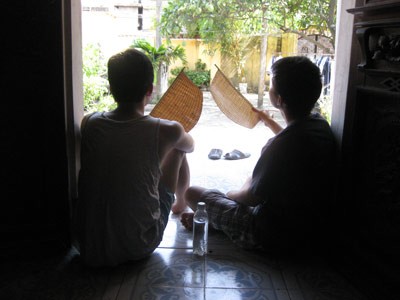 People forced to use bamboo fans due to power cuts during the intensely hot weather (Photo: Vietnam Net)
Northern provinces have all faced power failures for over a month. Vinh Phuc, Bac Giang, Lang Son, Ha Nam and Thai Binh provinces have had to endure alternating power cuts to economize scarce energy supplies.
 
Many people left without power for rice cookers and rice-husking machines, have been victims of the power cuts.  In addition, water companies have had to cut off the water supply.
 
Unable to tolerate the suffocating head without air-conditioning, people have been cooling off in rivers and ponds.
 
Nguyen Huu Tinh, deputy head of the Agriculture and Rural Development Department of Hanoi's Dan Phuong District, acknowledged the non-stop power cut of recent days has upset people's daily lives and businesses very much.
 
He said, "Furniture makers in the district's Lien Hong Commune have faced a total loss of VND350 million (US$18,400) a day due to the power failure. They have had to have their employees quit."
 
In Hanoi's Phu Xuyen District, hundreds of incubation mills, which supply eggs to entire the North, have also faced difficulties caused by the energy cut.
 
Nguyen Xuan Cung, owner of an egg-incubating mill, said, "It takes 20 consecutive days to incubate a batch of eggs. But there was a sudden power cut of over 12 hours in my region on May 16, spoiling over 1,000 eggs, equivalent to VND10 million (US$526)."
 
To deal with the power cut, northern people have rushed to border areas, including Tan Thanh and Dong Dang in Lang Son Province and Mong Cai in Quang Ninh Province, as well as to electronic supermarkets in Hanoi, Hai Phong, Ha Long and Lao Cai to buy power-conserving devices including fans and lamps.
 
However, many countryside families cannot afford the devices even though a power-conserving fan costs only VND150,000-600,000 ($8-32) and a lamp VND200,000-350,000 ($10.5-18).

Down south in Ho Chi Minh City, sales of electric fans and air conditioners have surged sharply following scorching temperatures, which rose to 38-40 Celsius degrees over the past week.
 
On May 18, sales of fans and air conditioners soared by 30-50 percent over the same period last year, selling at twice the rate of an average day.
 
Prices of beverages have increased as well, by 4-5 percent.
 
Though temperature in the north has been lower than other parts of the country, it is still hot and muggy, which have caused many children and elderly discomfort and dizziness.
 
Heat not expected to let up
 
The National Hydro-Meteorological Forecast Center said May 18, the entire country experienced severe heat that day, with HCMC and southern provinces seeing the highest temperatures.
 
Le Thanh Hai, the center's deputy director, said the heat will continue today nationwide, and the north should see a cooler weather by May 22, while the south will suffer through more extreme heat for five to six more days.