Deputy Prime Minister Nguyen Sinh Hung addressed a meeting in Can Tho City yesterday to summarize ten years of implementation of Decree 21 by the Politburo and the important accomplishments made for the development of the Mekong Delta Region.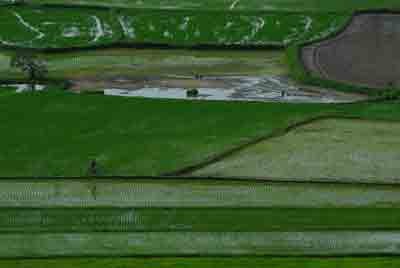 A paddy field in the Mekong delta province of An Giang (Photo: Kim Chi)
Hung congratulated people and local officials on overcoming various difficulties and for their best efforts in achieving positive results. He said that in addition to sharing their past experiences and strategies, the meeting was meant to find more ways for a comprehensive development of the region.
Nguyen Phong Quang, Deputy Head of the Southwest Region Steering Committee, said the average economic growth of the region from 2001 to 2010 was 11.7 percent, with medium household income 2.5 per cent higher than in 2001 and the budget revenue six times more than 2001 (more than VND28,000 billion, approx. US$1.36 billion).
The government has also provided jobs to about 375,000 people each year and clean water to 87 percent of households.  The social security programs in the Mekong delta province of Hau Giang, Tra Vinh, Ca Mau, An Giang and Dong Thap had helped mobilize billions of Vietnam dong.
There was visible improvement in the field of health, education, culture, security, social life of minorities and national defense, particularly in sensitive and border areas.