Vedan Vietnam signed September 10 an agreement to compensate nearly VND120 billion (US$6.3 million) to farmers in Long Thanh and Nhon Trach districts, Dong Nai Province for damage to farmland caused by its illegal discharge of untreated wastewater into the Thi Vai River.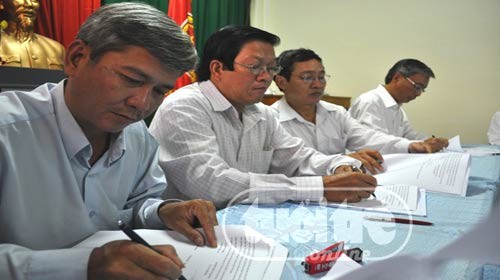 Representatives of Vedan Vietnam and the sounthern province of Dong Nai sign the compensation agreement on September 10 (Photo: TT)
Vedan will transfer half of the compensation to farmers in Long Tho and Phuoc An communes in Nhon Trach District, and Long Phuoc and Phuoc Thai communes in Long Thanh districts within one week.
The remainder will be transferred on January 14, 2011 at the latest with a bank guarantee by the Ho Chi Minh City branch of Bangkok Bank.
 
The bank guarantee for the provincial farmers must be sent to the Dong Nai Province Farmers Association within one week from September 10, the agreement said.
The Taiwanese MSG producer also agreed to pay the province additional VND1 billion to cover its cost of inspecting and calculating economic losses suffered by affected farmers.
Dong Nai, which suffered most from the pollution, is the last locality to accept the company's compensation.
So far, farmers in the province have agreed not to sue Vedan and accept its compensation, only Vien Dong Company has insisted on its lawsuit.