Police in the central province of Binh Thuan are investigating a man who was said to be the driver of the container truck that collided with a long-haul bus causing flames on the latter on Monday, killing 10 passengers.
The accident took place at around 2 am in the province's Ham Thuan Bac District, about 250 kilometers north of Ho Chi Minh City.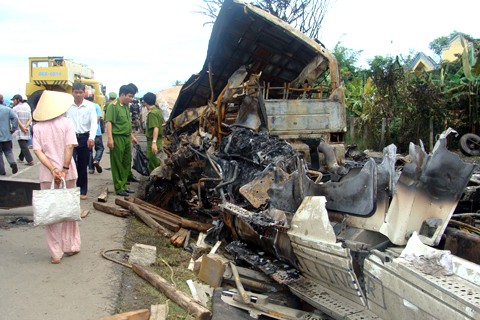 The accident site on the morning of November 7, 2011 in Hong Son Commune, Ham Thuan Bac District, Binh Thuan Province (File photo)
The driver, Nguyen Dao, 33, a resident in the central province of Khanh Hoa, told the police that his assistant Tran Thanh Thien was driving the container truck towards Ho Chi Minh City, and Dao was sleeping when the accident happened.
He said he was sleepy and assigned the 22-year-old assistant to drive so that he could sleep, according to the police.
Both the assistant and the bus driver died in the accident, which also injured more than 20 others.
Dao said his assistant Thien did not have a license to drive a container truck.
Vietnamese laws allow only 24-year-old or more people to drive a container truck. Thien was just 22.
According to the police, the reason of the deadly accident was the container truck ran too fast in the middle of the night.
It made a head-on collision with the long-haul bus, which was traveling the opposite direction. Both burst into flames, and the fires destroyed both vehicles.