The bullet warheads had been purchased to scrap as wasted materials by 54 year old Nguyen Van Tien, owner of the exploded scrap buying establishment in Quan Do hamlet, Van Mon commune, Yen Phong district.
Right after the explosion, the investigation agency of Bac Ninh Police Department prosecuted and held the man in custody for illegally storing and trading military weapons according to Item 3, Article 304 of the Penal Code 2015.
Tien declared that he purchased seven tons of bullet warheads in December last year to scrap them as wasted materials and kept them in the establishment in Quan Do hamlet.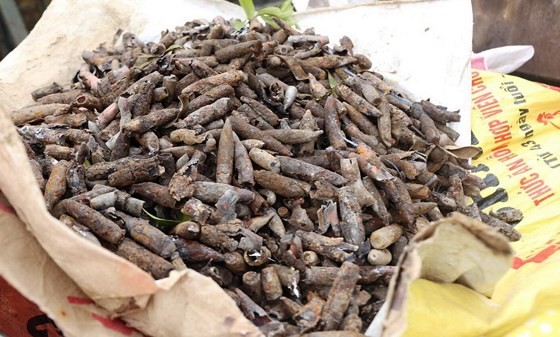 Bullet warheads collected by local people after the accident
The police agency has examined another scrap establishment of Tien in the hamlet where they found some bullet warheads and many electronic devices.
A big explosion occurred at 4:30 a.m. on January 3, killing two children, injuring seven people and damaging many houses in Quan Do hamlet, leaving lot of bullet warheads at the scene, in many houses and roads.

Local residents collected a total of 500 kilograms and handed over to police force on the same day.