Vietnam will work harder, together with Cuba, to develop the two countries' partnership in a more practical manner for their mutual benefit, said Prime Minister Nguyen Tan Dung.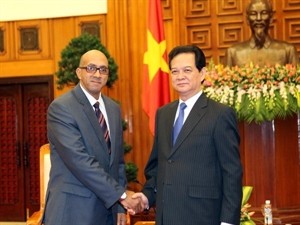 PM Nguyen Tan Dung and Cuban Ambassador Herminio Lopez Diaz in Hanoi (Source:VNA)
He made the statement during his November 28 meeting with newly appointed Cuban Ambassador to the country Herminio Lopez Diaz in Hanoi.
PM Dung appreciated Cuba's precious support to Vietnam during its struggle for national liberation and current development as well.
He urged the ambassador to connect the two countries' ministries and sectors in the effective implementation of reached agreements and in accelerating new cooperative programmes with a particular attention to economics, trade and investment.
The PM also voiced the need for regular visit exchanges between the two countries, tapping potential in education, pharmaceuticals, and science and technology, expressing wishes that Vietnamese businesses in telecommunications and agriculture will be helped to successfully operate in Cuba.
For his part, Ambassador Herminio Lopez Diaz pledged to spare no effort to help nurture the two sides' friendship, hoping to absorb Vietnam's lessons in socio-economic development.-VNA