Prime Minister Nguyen Tan Dung asked ministries, agencies and localities to continue making efforts to implement tasks and measures set in Government Resolution No. 11, striving to cap inflation at 18 percent and ensuring a GDP growth rate of 6 percent this year.
The Government leader made the request at the Cabinet regular October meeting in Hanoi on Nov. 3-4.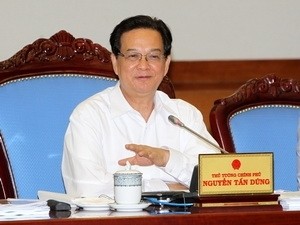 Prime Minister Nguyen Tan Dung chairs the regular cabinet meeting (Photo: Vietnam News Agency)
At the meeting, PM Dung suggested ministries, agencies and localities focus on restructuring public investment to reduce the proportion of investments from State capital, and locate other sources for investment.
They should pour investment into urgent projects in combination with improving investment quality, he said.
He asked for the early submission of State-owned business restructuring projects to improve the efficiency of the operations of State-owned enterprises, particularly economic groups and corporations.
Regarding the implementation of social security policies, the PM urged ministries, agencies and localities to pay more attention to people in flood-hit areas and to continue implementing poverty reduction policies while controlling disease, ensuring traffic safety and speeding up administrative reform.
According to Government members, thanks to the timely and drastic implementation of measures to curb inflation, stabilise the macro-economy and ensure social welfare since the beginning of the year, the country's socio-economic situation has seen positive results, with a three-fold increase in exports and a sharply decreasing trade deficit.
The inflation has been controlled, with the consumer price index (CPI) up only 0.36 percent, the lowest increase since September 2010.
Many social policies have been implemented and recorded positive results, helping to improve people's living standards and maintain economic development.
However, they said that the domestic economy is still facing many difficulties and challenges as high interest rates are hindering business operations, increasing foreign currency demands and inflationary pressure in the last months of the year, and natural disasters and diseases have also created further complexities.
Therefore, the Cabinet members suggested removing difficulties for businesses, speeding up the disbursement of investments of projects that should be completed this year, as well as implementing measures to stabilise prices and overcome the consequences of floods.
Governor of the State Bank of Vietnam Nguyen Van Binh affirmed that the central bank will work hard to ensure the liquidity of the banking system, prevent credit organisations from bankruptcy and continue reducing the interest rate ceiling.