Prime Minister Nguyen Tan Dung said yesterday that drastic measures are needed to deal with aggregate demand, spur production and ensure social protection.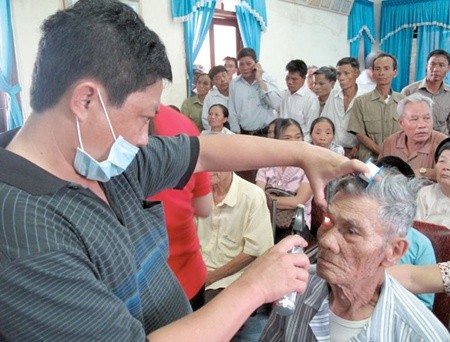 Staff from Nghe An Province's Red Cross provide free eye exams, consultations and medicine to poor patients. The PM said Viet Nam must push for reforms to reduce hospital overloading and prevent disease. — VNA/VNS Photo Nguyen Van Nhat
Addressing the concluding session of a regular cabinet meeting, he identified several problems, including slow disbursement of investment capital, budget imbalances, and several uncompetitive sectors, that needed to be addressed so that the national growth target of 5.8 per cent can be met.
Dung called upon relevant agencies to implement urgent and comprehensive measures to attract more investment into the industrial, agricultural, services, and tourism sectors, particularly rural areas.
Investment in infrastructure development should also be given priority, he said.
The PM also called for greater efforts to increase the export of Vietnamese goods to potential markets.
Highlighting the fact that Viet Nam's labour productivity of 61 percent is only average among ASEAN members, and just slightly ahead of Myanmar and Cambodia, he asked the National Council for Sustainable Development and Competitiveness Improvement as well as other agencies to study the problem and find solutions.
He also called for more efforts to meet the target of creating 1.6 million new jobs. So far, 1.5 million people have secured jobs this year, promoting sustainable poverty reduction, he said, urging stronger focus on healthcare and education.
The PM said Viet Nam must push tor reforms to reduce hospital overload and prevent diseases. He noted that an alarming number of poor Vietnamese suffer from tuberculosis and called on concerned authorities to increase awareness and knowledge of ways to fight such diseases.
Increasing trust
At a press meeting held yesterday, Head of the Government Office Nguyen Van Nen said that if it happens, the easing of restrictions on selling weapons to Viet Nam would have a positive impact on relations between Viet Nam and the US, showing increased trust between the two countries.
Responding to questions on the crack found on the recently-opened Noi Bai-Lao Cai Highway, Nen said the public should wait for an official study and conclusion before jumping to conclusions of "irresponsible error."
He said the Transport Ministry had been assigned to inspect repair work currently undertaken by subcontractors.