Prime Minister Nguyen Tan Dung urged ministries and localities to closely watch prices, especially on essential goods, to prevent the reoccurrence of high inflation and speed up economic recovery.
At the regular February government meeting on March 2-3, PM Dung emphasized tasks for socio-economic development for now through the end of this year, urging the facilitation of production and business to promote development investment.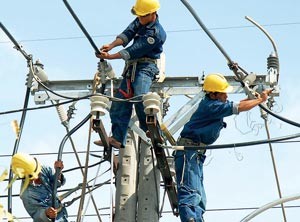 Undated file photo shows Vietnamese electricity workers. Electricity prices in the country increased early March and the government says no more power price rises this year. (Photo: SGGP)
The industrial production value rose by 13.6 percent in the first two months of this year against the same period of last year despite the week-long traditional festival that affected production and business, said a report presented by Minister of Planning and Investment Vo Hong Phuc.
The number of foreign tourists to Vietnam is estimated at 877,000 in the reviewed period, up 27.4 percent. The number of telephone subscribers rose 61.8 percent to 138 million, the report said.
However, socio-economic development over the past two months saw weaknesses. Total export turnover only reached 8.913 billion USD while import turnover was estimated at 10.658 billion USD, leading to a high trade deficit of 1.745 billion USD or 19.6 percent of the total export turnover.
The consumer price index (CPI) went up 3.35 percent in the last two months and stood 8.04 percent higher than the same period last year.
Also, a forest fire at the Hoang Lien National Park in the northern provinces of Lao Cai and Lai Chau destroyed about 1,000 ha of forests.
To meet this year's socio-economic targets adopted at the sixth session of the National Assembly (tenure XII), the government asked ministries, branches and localities to take eight groups of solutions, focusing on the comprehensive implementation of measures and programs on macro-economic stability.
At the meeting, the government gave opinions on the Ministry of Planning and Investment's project on renewing and pushing up economic restructuring for the 2011-2020 period, improving the capacity, effectiveness and competitiveness of the economy.
It offered feedback as well to the Ministry of Construction's document on common planning for construction in Hanoi through 2030 and vision a for 2050, and the State Appraisal Council's assessment of investment in a project on construction of the North-South express railway, and some draft laws and decrees.