Prime Minister Nguyen Tan Dung has called on ministries and localities to continue improving their capacity to forecast natural disasters and changes in the climate.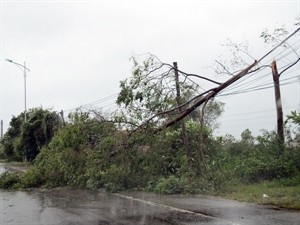 Trees fall down due to storms
The leader made the appeal while chairing the fourth meeting of the National Committee on Climate Change in Hanoi on February 19, during which he urged for the Party Central Committee's resolution on responding to climate change to receive more media coverage so that the message spreads further and faster.
Ministries were also requested to rearrange capital sources to focus on projects tackling climate change conundrums.
The PM also reemphasised to localities the need to more closely manage natural resources, especially the mining of minerals.
He laid special emphasis on the need to strengthen international cooperation in order to learn from the green initiatives of other nations.
Over recent years, Vietnam has paid due attention to coping with climate change response and protecting the ecological environment swiftly and effectively, he said.
Notably, the whole political machine united in November last year to fight against super typhoon Haiyan, which caused major destruction in parts of the country.
Regarding plans for 2014, the committee will integrate green growth with climate action and socio-economic development at localities, the conference heard.
Vietnam will increase its engagement in global forums on green growth and the UN General Assembly's meetings on climate change.
The committee members agreed that the implementation of programmes and solutions on climate change is of special significance to the country's sustainable development.
Therefore, they suggested closer and more effective coordination between ministries, agencies and localities in forecasting work and building climate change scenarios.