Prime Minister Nguyen Tan Dung will spend two and a half hours answering questions from the public during an online question-and-answer session on February 9. It's the first time a Vietnamese PM will have participated in such an event. Questions from both local citizens and overseas Vietnamese will be answered.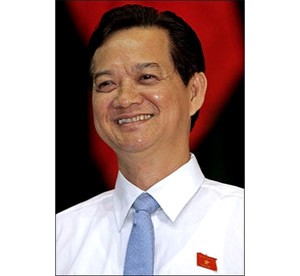 PM Dung will field questions online from the public for the first time on February 9
Editor in chief of the Bao Dien Tu Dang Cong San Viet Nam (online version of the Viet Nam Communist Party newspaper), Dao Duy Quat, said the PM will address a wide range of issues.
 
"I believe the PM will be answering as many questions as he can," said Quat at a press conference announcing the event.
 
The Party's paper is working with the Government website, the Viet Nam Television and the online newspaper VietnamNet to organize the session.
 
Mr.Quat, also the Deputy Director of the Central Committee for Culture and Ideology, said online question and answer periods represent a new form of communication that will help the PM to understand and address the public's concerns and opinions.
 
They will also help the public gain a better understanding of government policies and enhance national unity.
 
The forum will focus on nine topics: assessment of the country's socio-economic development in 2006; plans to ensure rapid but sustainable development in 2007 and beyond; fights against corruption and waste; housing and land policies; administrative reforms; development of education, culture and health; development of science and technology; prevention of epidemic diseases and disasters; and issues relating to life, work and society.
 
Mr. Quat said the PM will answer all the questions put forward but, due to time constraints, some will have to be answered after the session using other means of communication.
 
The event is scheduled to take place from 9:00 a.m. to 11:30 a.m. on the Government website.
 
Questions for the Prime Minister can be forwarded at anytime henceforth (even during the event) by logging onto: http://www.chinhphu.vn; http://www.dangcongsan.vn and http://www.vietnamnet.vn.