Prime Minister Nguyen Tan Dung has asked the Ministry of Foreign Affairs (MOFA) to help Vietnamese citizens in Lebanon to return home as the situation there deteriorates.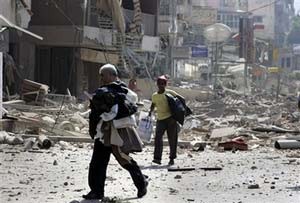 A destroyed street of the Lebanon capital Beirut by Israeli  warplanes
The PM has released a telegraph, requesting the MOFA to assist Vietnamese citizens to quickly leave combat zones, to help them with consular procedures and provide them with financial assistance if necessary.
The MOFA was also asked to instruct the Vietnamese Embassy in Egypt to continue monitoring the situation in Lebanon, drawing up a list of Vietnamese people there and evacuating them from combat zones, the telegraph says.
The ministry was asked to work with international agencies, such as the International Organisation for Migration and the United Nations High Commissioner for Refugees, given the possibility that these organisations may be able to help in evacuating Vietnamese citizens.
According to the telegraph, the Ministry of Culture and Information has been requested to instruct the media to continue warning Vietnamese citizens not to visit Lebanon. The media should also report the MOFA's warning in their foreign service programmes, it states.
The MOFA is required to assess the situation in Lebanon and report its findings to the PM
 
Source: VNA