Prime Minister Nguyen Tan Dung has requested the provision of basic living essentials for locals in the central province of Khanh Hoa facing a lingering drought during its dry season.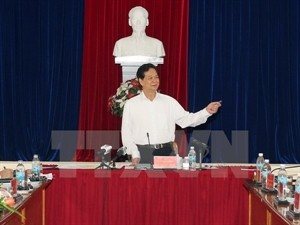 PM Nguyen Tan Dung speaks at the working session (Photo: VNA
During a working session with the provincial authorities on April 14, he asked them to apply more effective models in agriculture, such as flower and grass cultivation as well as cow and sheep rearing which, he said, consume less water.
Due to the drought, about 5,400 hectares of winter-spring crops are drying out, 133 of which are unrecoverable. Meanwhile, its water reservoirs are currently holding less than 10 percent of their designed capacity.
The province asked for government support of 37 billion VND (1.76 million USD) to counter the effects of drought, 29 billion VND (1.38 million USD) to buy rice seeds and 1,000 tonnes of rice to feed affected households.
It also appealed for assistance in building new reservoirs as a long-term measure against drought, ensuring that famers have a sufficient supply of water for production and livelihoods.
The PM praised Khanh Hoa for its socio-economic achievements with a 7.11 percent growth in gross domestic product during the first quarter of this year, including over 950 billion VND (45.2 million USD) in tourism revenue, up 5.16 percent yearly.
The government is willing to work with Khanh Hoa to develop tourism, he emphasised, adding that the province should make it a top priority.
He also gave a nod to the Ministry of Agriculture and Rural Development's proposal to build a hi-tech fishery centre to serve fishermen in the coastal southern central region.
Guiding the local agricultural economy, he suggested restructuring agriculture in tandem with building new-style rural areas.
He urged the province to hold all-level Party Congresses on schedule towards the 12 th National Party Congress and elect a contingent of qualified staff.
The leader also pledged comprehensive support for the province in combating the extreme weather