Prime Minister Nguyen Tan Dung has emphasized urgent tasks that should be focused on, including curbing inflation, stabilising the macro-economy and ensuring social welfare.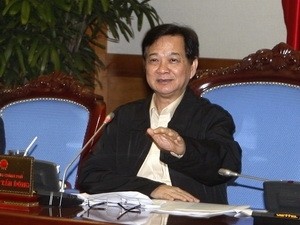 Prime Minister Nguyen Tan Dung
PM Dung made the statement at a working session with domestic scientists and experts on urgent solutions to manage the macro-economy in Hanoi on Feb. 22.
The participants reached consensus on the necessity to issue a Government Resolution in the context of inflation and rising prices which are affecting the stabilization of the macro-economy.
They said the issuance of the resolution reflected the Government's quick and prompt move and its high determination in socio-economic management.
The draft resolution puts forward solutions on monetary policy, enhancing public investment management, promoting production, business and encouraging exports, controlling trade deficit, economically using energy and implementing the itinerary for electricity and petrol selling prices under the market mechanism.
The name of the Resolution must reflect the target of curbing inflation, stabilizing the macro-economy and ensuring social welfare in 2011 with a priority given to inflation control, said PM Dung.
In the immediate term, the State Bank of Vietnam must strictly and cautiously implement the monetary policy, harmoniously combine the monetary and fiscal policies to ensure that this year's credit growth is maintained below 20 percent and adjust suitable interest rates and foreign exchange rate to prevent inflation, he noted.
The Government will mobilize all sources to ensure a sufficient supply of foreign currencies and enhance the management of gold and foreign exchange business, affirmed the PM.
The PM also requested a tightened fiscal policy and a reduction of 10 percent in public expenses.
He also asked ministries and branches to reduce the number of public investment projects and report to the Government next month along with
continuing to promote production and business with priorities to agricultural production and closely control trade deficit, adjusting the petrol and electricity prices to eradicate subsidy and supporting disadvantaged people and ensuring social welfare.
He also laid stress on the need to disseminate information and create social consensus, saying that ministers should be proactive in providing information to the press, especially issues of public concern.