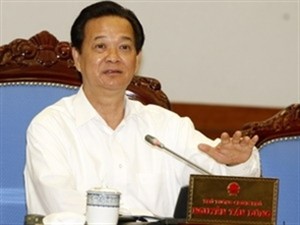 Prime Minister Nguyen Tan Dung speaks during a regular Government meeting in Hanoi (Photo: Vietnam News Agency)
Prime Minister Nguyen Tan Dung has requested ministries, agencies and localities to continue with drastic measures to ensure the macroeconomic stability, prevent high inflation and attain a GDP growth rate of 6.5 percent.
At a regular Government meeting in Hanoi on May 5, the Prime Minister urged for a stricter control of prices, foreign exchange rates, deposit and lending interest rates as well as sources of revenues in order to reduce budget deficit.
He called for speeding up investment for development with priority given to key works and projects serving production and daily life while solving difficulties and boosting production activities.
Attention should also be paid to acceleration of administrative reforms, fight against corruption and waste as well as the settlement of citizens' complaints, he added.
Regarding the socio-economic situation in April and in the first four months of the year, PM Dung highlighted positive developments with increasing industrial production and exports as well as reducing prices and lending and deposit interest rates.
In the four-month period, the total investment capital from the State budget was estimated at over 33 trillion VND (1.75 billion USD), equivalent to 26.7 percent of the yearly plan.
The country's total export turnover reached 20.16 billion USD, representing a year-on-year rise of 8.9 percent. The consumer price index (CPI) in April saw the lowest increase of 0.14 percent from the beginning of the year.
In the first four months, the country generated jobs for around 475,000 laborers, up 11.3 percent compared to the same period last year. Of the figure, 30,500 people were sent to work abroad, soaring 19.6 percent.