Prime Minister Nguyen Tan Dung has asked ministries, branches and localities to take drastic measures to prevent forest fires and their spread to protect forest resources and the natural environment.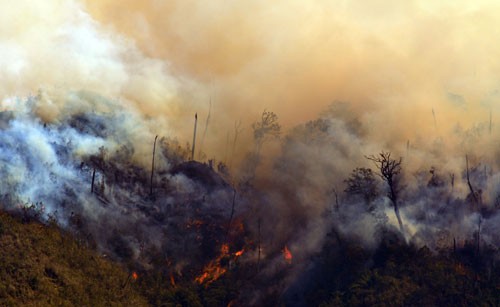 A part of Hoang Lien National Park is fired on February 10
A PM dispatch to ministries, branches and localities on March 5 said the prolonged dry spell has impacted many localities, especially the northern mountain, central, Central Highlands and Mekong Delta regions, resulting in major fires in several areas
The PM asked the Ministry of Agriculture and Rural Development and the Steering Committee for Forest Protection, Fire Prevention and Control to take responsibility for arranging fire watches to spot blazes and extinguish them promptly to prevent their expansion to primeval forests and natural preserves.
The National Committee for Search and Rescue and the Defense Ministry were asked to provide more forces to help the northern mountainous province of Son La to extinguish fires in the Ta Sua wildlife reserve and in areas bordering Son La and Yen Bai provinces.
The steering committee for forest protection, fire prevention and control will cooperate with the Defense Ministry to provide emergency care and rescue and to ensure communications for fire fighters in Son La and Lai Chau provinces as well as other large-scale fire areas.
Local authorities at all levels will take responsibility in helping to raise people's awareness on forest protection and fire prevention and control and ask them not to burn land for cultivation in dry season, which is said to be the main reason for forest fires.
Meanwhile, the Vietnam Posts and Telecommunications Group under the Ministry of Information and Communications has been asked to ensure communications for the direction of the implementation of fire prevention and control in Son La, Lai Chau and Lao Cai provinces.