Prime Minister Nguyen Tan Dung affirmed that Viet Nam is eager to play a greater part in the global efforts to promote development and maintain peace and security. He said that is the reason why the country is seeking a non-permanent seat in the United Nations Security Council for the 2008-09 term.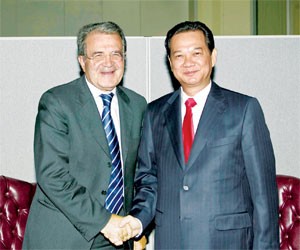 PM Nguyen Tan Dung (R) shakes hands with his Italian counterpart Romano Prodi on Sep 26 

At his banquet for leaders attending the 62nd UN General Assembly session held on September 26 in New York, PM Dung appreciated the support that many countries have given to Viet Nam's candidacy and hoped to garner the backing of all UN member countries in this effort.

In his speech on this occasion, PM Dung also highlighted the United Nations' significant contributions to international affairs and to each nation as well over its 60 years of existence and wished the body to reap new achievements in the future.

The same day, Deputy Prime Minister and Foreign Minister Pham Gia Khiem met with the foreign ministers of Syria, Uruguay and Iceland, the Secretary General of the South Africa Development Community and the President of the UN Development Group and Director General of the UN Development Program.

The foreign ministers confirmed their countries' support for Viet Nam's candidacy for a UN Security Council non-permanent seat in the 2008-09 term. They also expressed desires to boost economic and investment cooperation with Viet Nam.