Prime Minister Nguyen Tan Dung pushed Bulgarian investment towards hi-tech agriculture, pharmaceuticals, clean energy and mechanical engineering in Vietnam during the Vietnam–Bulgaria business dialogue in Sofia, capital of Bulgaria on June 5.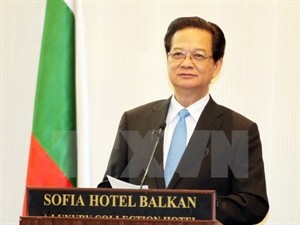 PM Nguyen Tan Dung at the business dialogue (Photo: VNA)
In the meantime, he also urged for increased exports of Vietnamese farm produce, electronics, garment and imports of Bulgarian food, pharmaceuticals and machines.
Vietnam is a vibrant economy and an attractive investment destination which is integrating into the global economy, he said, adding that Vietnam and Bulgaria are long-time partners with over 4,000 Vietnamese experts trained in the European country.
Bulgaria, strategically located in the Central and South Europe, is currently investing in 10 projects worth about US$31 million in engineering and information technology in Vietnam.
Vietnam highly values Bulgaria's economic policy and strengths in mining, energy, metallurgy, chemicals, pharmaceuticals, farming and engineering as well as its role of connecting Central-South European economies with Asian counterparts, including Vietnam, the Vietnamese leader said.
While answering queries by Bulgarian business community, he also introduced Vietnam's incentives to foreign investors and response to the global economic crisis.
About the new model of Vietnam–Bulgaria economic cooperation, the Vietnamese guest expressed his support to the initiative proposed by Bulgarian President and revealed that a working group will be established soon to realise the model.
Bulgarian Vice President, in his address, said looking towards a strategic partnership, Vietnam is expected to become a launch pad for Bulgaria to extend its ties with ASEAN member states and Asia-Pacific economies.
Bulgaria is ready to be a gateway for Vietnamese goods to break into the EU and share its know-how in renewable energy and environmental protection, he said.
Earlier, the PM met Chairman of the Managing Board of Bulgarian Industrial Capital Association Vasil Velev, President of the Bulgarian Chamber of Commerce and Industry Tsvetan Simeonov, Director of the Executive Agency for Promotion of Small and Medium Enterprises Marieta Zaharieva, and several corporate executives.