The Government will issue a decree offering more support to the country's fisheries sector, putting it on a fast and sustainable road to growth, Prime Minister Nguyen Tan Dung has promised.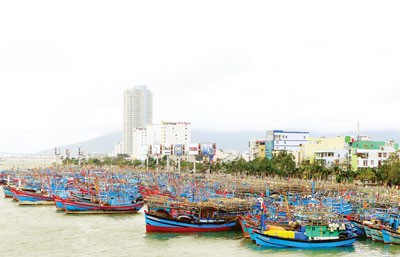 A fishing fleet in Da Nang City (Photo: SGGP)
Speaking at a conference on the development of the seafood industry in the central city of Da Nang on April 15, PM Dung called for closer State management and better policies, particularly in credit, insurance, export and infrastructure, for fishermen.
He said new partnerships should come up, such as cooperatives and trade unions, in order to create a value chain.
The Government will do its best to facilitate trade and expand the seafood market, he confirmed.
Dung asked ministries, agencies and localities to pay attention to key maritime forces, including the navy, the coastguards and fishery surveillance officials who will assist fishermen in catching and coping with natural disasters, thus helping safeguard the national independence and sovereignty.
Some delegates suggested catching more fish offshore and building about 3,000 steel vessels. In aquaculture, more focus should be given on highly-competitive products like prawns, tra fish and molluscs, making it easier to export a wide array of products.
According to them, it is advisable to rearrange the value chain covering fishing farms, grounds and markets in which processing firms play a core role.
The industry, with over 4.5 million workers, yielded an output of nearly 6 million tones. However, its infrastructure remains poor with 99 percent of fishing vessels being made of wood. Some 1 million workers have yet to undergo training.
Related article:
Vietnam Fisheries Surveillance Force debuts