Prime Minister Nguyen Tan Dung will attend the 5th Greater Mekong Subregion (GMS) Summit scheduled for December 19-20 in Bangkok at the invitation of his Thai counterpart Prayuth Chan-ocha.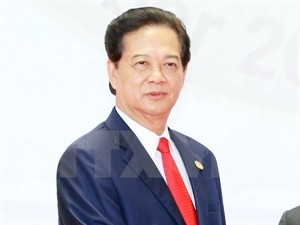 Prime Minister Nguyen Tan Dung (Photo: VNA)
Vietnam's attendance at the event is to show the country's support for the GMS mechanism and affirm the role and position played by the country in promoting sub-regional and regional links as well as the relations between Vietnam and other nations in the sub-region.
Vietnam will take the occasion to consolidate the Strategic Partnership with Thailand, while calling for support from the international community for joint efforts in the sustainable management and use of the Mekong River water.
Established in 1992 under the initiative of the Asian Development Bank (ADB), the GMS cooperation programme consists of Vietnam, Laos, Cambodia, Thailand, Myanmar and China's Yunnan and Guangxi provinces.
Over the last 22 years, the programme reaped significant achievements in the 10 key fields of transport, energy, environment, tourism, information and communications, trade, investment, human resources development, agriculture and rural development, and urban development along economic corridors.
By June 2014, the GMS carried out 75 investment projects totaling 16 billion USD, including those relating to the development of transport systems, hydropower, tourism infrastructure, contributing to socio-economic development and poverty reduction in the sub-region.
Last year, GMS member nations approved the regional investment framework (RIF) at the 19th GMS Ministerial Meeting, which aimed at realising the new GMS cooperation strategy for the 2012-2022 period. The RIF includes over 200 investment and technical assistance projects with a total initial capital of 51.5 billion USD.
The programme's long-term goal is to create favourable conditions for promoting mutual-benefit economic cooperation among regional countries, towards turning the GMS into a rapid and prosperous growth region in Southeast Asia.
Up to now, the GMS has defined 11 cooperation priorities, including telecommunications and ICT routes, economic corridors, electrical energy links, environment strategy frameworks, facilitation for trans-border trade and investment, involvement of private sectors, human resources development, water resource management and flood prevention, and tourism development.
Vietnam has joined actively in almost GMS's initiatives in the fields of transport, energy, investment, communications and agriculture, becoming a key link in GMS transport routes and economic corridors.
The country also plays a vital role in implementing the GMS's "Competitiveness, Connectivity and Community Strategy" (3Cs).
The country has been carrying out several main projects in the GMS framework such as an electrical network project worth 218 million USD linking Laos' southern Ban Hatxan province and Vietnam's Central Highlands Pleiku province and a 63.9 billion USD project on the management and mitigation of flood and drought risks in the sub-region.
Vietnam has also been involved in a number of the regional technical assistance (RETA) projects funded by ADB and other development partners, as well as initiatives.-VNA