Prime Minister Nguyen Xuan Phuc on March 18 inspected a waste-to-energy (WTE) technology model – a made-in-Vietnam invention successfully applied in Dong Van 2 industrial park in the northern province on Ha Nam.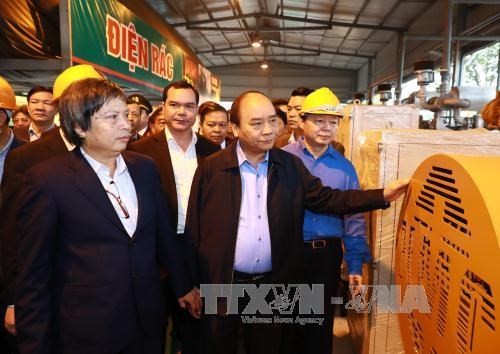 PM Nguyen Xuan Phuc in Ha Nam (Source: VNA)
Engineer Nguyen Gia Long, Director of Hydraulic Machine Ltd Company (HMC) and WTE inventor, said at the core of the WTE technology is a process known as gastification which converts wastes into a synthesis gas (syngas) used as a fuel to generate electricity.
The WTE model has been successfully experimented by the Ministry of Science and Technology (MoST), the Ministry of Natural Resources and Environment, and the provincial People's Committee since September 21, 2016, during which, 208 tonnes of unclassified solid wastes were processed to generate sufficient power for the lighting system in the Dong Van 2 IP to run during 10 days.
The Vietnam Environment Administration's Centre for Environmental Monitoring reported that emissions from the process meet the standards of Vietnam and the World Health Organisation.
At the working session with the PM, Long expressed wish that the government would help the company to ensure WTE patent right and facilitate its wide application.
PM Phuc, for his part, lauded the engineer and his staff for their hard work over the past 16 years to research and pilot the WTE model. He asked ministries and agencies to continue to support the company in perfecting the technology, with a view to put it to commercial use nationwide.
The leader suggested Ha Nam allows HMC company to handle part of the waste volume in the province during one month in order to compare the cost of the new technology with that of the conventional waste treatment of burying, thus making a detailed report on the economic efficiency of the technology.
The Ministry of Industry and Trade and the Electricity of Vietnam will evaluate the technical aspect, connectivity, stability, volume and quality of power generation using the WTE technology.
The PM also hoped that HMC would strive to raise the WTE power generation capacity to more than its existing 0.5MW and complete procedures to commercialise the technology.
According to Minister of Natural Resources and Environment Tran Hong Ha, an average 23 million tonnes of solid wastes are buried in more than 500 landfills nationwide per day, with only 26 of the facilities capable of classifying and recycling wastes.