Prime Minister Nguyen Tan Dung chaired a conference on the Central Highlands' development in the 2006-2010 period, held in Ho Chi Minh City on July 16-17. The Government leader gave the Sai Gon Giai Phong newspaper an interview after the conference.
Sai Gon Giai Phong: What is the foundation for the Central Highlands to become a strong economic region with sustainable development?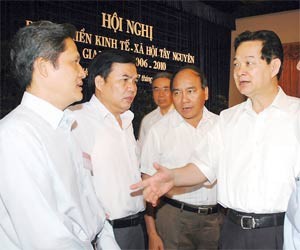 PM Nguyen Tan Dung (R) discusses development issues with participants at the conference. (Photo: SGGP)
PM Nguyen Tan Dung
: The Central Highlands' location is very significant to the whole country. The region has lots of potential for development but not being fully tapped yet.
The major task to do to bring rapid and sustainable development to the region is to tap its potential and advantages. First of all is the Central Highlands people, who have been supporting the country's revolutionary process, love their hometown and nation, demonstrate their solidarity and work hard.
It is necessary to pay close attention to human resources development, education from the kindergarten level to the higher education level. Special attention should be paid to vocational training for the ethnic youth.
Now, 70% of the region's population are under 30 years old. Creating sustainable jobs for the workforce of the local ethnic minority groups means ensuring sustainability for their whole families.
The Central Highlands' area of basalt red soil is the biggest of Viet Nam, and this is another advantage. This type of soil is suitable for industrial crops, especially rubber, coffee and mulberry. The region now houses 400,000 hectares of coffee and 100,000 hectares of rubber.
With five million hectares of forest, the region is also strong in forestry but this advantage has neither been tapped. The solution is to redo things like re-classifying forests, clarifying which forests are for certain purposes. And we need to determine how much forest land for afforestation to plant rubber trees, trees for paper pulp and furniture production.
With lots of potential in the workforce and natural resources, it is very feasible that in the next five years, the rubber acreage will be doubled to 200,000 hectares, creating sustainable jobs for about 600,000 working households with the average income of VND1.7 million (about US$106) per month.
Developing hydroelectricity is another outlook for the Central Highlands, home to rivers suitable for building hydroelectric power stations. The construction of a system of hydroelectric power plants will be completed soon, creating 13-14 billion kWh a year worth about US$700 million.
The Central Highlands also have lots of aluminum reserves, and mining can produce a few million tons of aluminum a year.
I think the point for sustainable development in the region is to fully tap such potential and advantages. Economic development and improving the people's living conditions will bring about sustainable development.
What will the Government do to support the Central Highlands' socio-economic development plan in the next five years?
The Government will give priorities to developing infrastructural facilities like roads, electricity supply, schools, clinics, especially irrigation works. Irrigation development will go hand in hand with electricity development, resettlement of local residents, and tourism development. With enough water for cultivation during the dry season, the locals will be able to avoid hunger in the between-crop period. This also ensures a sustainable life for the Central Highlands residents.
Investment and expertise for the region will come from not only the Government but also enterprises. The Government functions with its development policies facilitating activities of all economic sectors.
Given the supportive policies, the local officials must improve their management capacity. Creativeness is also required for their management.
During the conference, local officials asked for your instructions for problems not hard to solve in their localities. Do you think that this is due to the current mechanism or because the officials are neither creative nor enterprising?
Nothing stays the same and policies are not an exception. A fact is that some polices used to be effective in the past but are likely obstacles now. The current mechanism must be updated and adjusted regularly, but more important is how to utilize it. No mechanisms are perfect and it is human beings that have to improve them. Therefore, local officials must be capable of translate them into reality effectively. When a rule shows to be obstacles, local officials must ask for instructions to handle the problem. Policies are a general frame and directions for officials, not fixed rules.
Another requirement is that local officials must master the laws to carry out policies flexibly, creatively and in a suitable manner for their localities.

Related article
Ethnic Minorities' Lives Improved