Vietnamese Prime Minister Nguyen Tan Dung has promised to create favourable conditions for foreign investors, including those from the US, to successfully do business in Vietnam.
The government leader made the commitment while hosting a reception in Can Tho City on Sept. 5 for a delegation from the US-ASEAN Business Council, who are attending a Mekong Delta investment and development conference.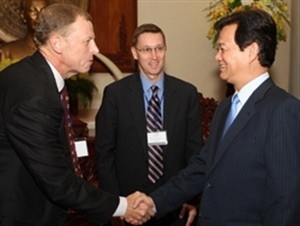 Vietnamese Prime Minister Nguyen Tan Dung (R) greets a representative of a US business delegation (File photo: Vietnam News Agency)
PM Dung noted with pleasure that economic, trade and investment relations between Vietnam and the US are growing fruitfully, with two-way trade exceeding 15.5 billion USD in 2009 and expected to reach a higher level this year.
The flow of US investment in Vietnam has been on the rise, making the US sixth among foreign investors operating in the Southeast Asian country.
PM Dung told his guests that the Mekong Delta is a region with dynamically economic development. It is a leading production and processing centre for rice, aquatic products and fruits and is a national hub of electricity and gas, he said.
The PM applauded US-invested projects in Vietnam and the Mekong Delta in particular, saying that they make positive contributions to the enhancement of the bilateral relationship. "Your success is also our success," he said.
On behalf of the delegation, President of Catepillar Asia Pte Ltd. Kevin Thieneman said US companies are pouring more investments into Vietnam, especially in infrastructure development, IT, power, gas, airplane engine manufacturing, healthcare, biotechnology and banking.
Thieneman said he hoped that the Government of Vietnam would further facilitate long-term investments of US firms.