Prime Minister Nguyen Tan Dung had talks with UN Secretary General Ban Ki-moon in New York on Thursday as part of his itinerary for the 62nd session of the UN General Assembly.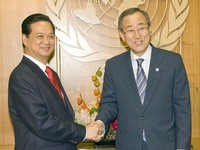 PM Nguyen Tan Dung (L) shakes hands with UN Secretary General Ban Ki-moon
PM Dung told the UN chief that Viet Nam has over the past 30 years actively participated in the world cause of peace, stability, cooperation and development. Viet Nam respects the UN role in the peace-keeping mission, pushing up development and solving social problems.  
The Prime Minister said he wished that the UN Secretary General will help Viet Nam make its candidacy for a non-permanent seat at the UN Security Council for the 2008-09 term come true.  
He also pledged to well cooperate with the Secretary General and the secretariat in implementing the UN Security's noble mission. He asked the UN Secretary General to give more support for Viet Nam to fulfill UN millennial goals and the country's assignation as a model for one-UN initiative.  
UN Secretary General Ban Ki-moon appreciated Viet Nam's due attention to the climate change problem as well as its efforts in implementing the one-UN initiative and the millennium goals.  
He also praised Viet Nam for its efforts to speed up transparency in management and exercise democracy in the social life as well as its contributions to the UN work.  
The UN chief said he believed that Viet Nam would be elected to the position of a non-permanent member of the UN Security Council for the 2008-09 term.