Germany is Viet Nam's largest trading partner in the European Union and many German companies have invested in Viet Nam successfully. However, cooperation between the two countries has fallen short of expectations and its potential, so more effort must be made to address this issue, Prime Minister Nguyen Tan Dung told visiting German Federal Council President Harald Ringstorff yesterday.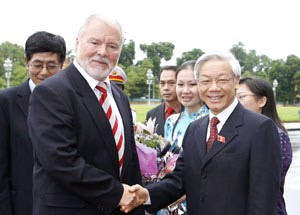 National Assembly Chairman Nguyen Phu Trong (R) shakes hands with German Federal Council President Harald Ringstorff
PM Dung said he was happy to see the growing ties between the two countries, especially in trade and investment.
 
He then pointed out that there were opportunities to seize in maritime transport, shipbuilding, airport construction, education, training and tourism. Mr. Ringstorff agreed, and said the two countries should boost cooperation in various fields.
 
He asked the Vietnamese Government to support the establishment of a German university in Viet Nam, and the formation of joint ventures in shipbuilding, tourism, and building seaports and airports.
 
The PM responded by pledging to make it simpler for German companies to invest effectively in Viet Nam.
 
At a meeting with Mr. Ringstorff earlier that day, National Assembly Chairman Nguyen Phu Trong said Viet Nam would increase the proportion of industry and services in its economic development strategy.
 
Viet Nam will make hospitality a key industry in its effort to shake off its undeveloped status by 2010, he added.
 
Mr. Trong said that to achieve this end would require capital, technology, and experience in personnel training and management.
 
"Viet Nam is keen to expand it ties with other countries, among them Germany, to learn from their experience in management and development, and hopes Germany will be a major economic partner," he said.
 
The 100,000 Vietnamese officials, students and workers who are staying in Germany will be an important bridge to develop friendly relations and cooperation between the two countries, Mr. Trong added.
 
The German visitor said that Viet Nam was the second fastest growing economy in Asia, an achievement that should lure more investment from Germany.
 
The visit by the German delegation shows their country's interest in promoting cooperative ties with Viet Nam in many fields, including transport, maritime services, food and foodstuff processing, biotechnology and the environment, he said.
 
Education and training are vital to the development of any country and its international relations, he added, and asked that Viet Nam and Germany cooperate to build a German university in Ho Chi Minh City.
 
He also expressed his pleasure at being here on Viet Nam's National Day, and at a time of fast-growing ties between the two countries.