Prime Minister Nguyen Tan Dung will arrive in New York later today to attend the 62nd session of the United Nations General Assembly.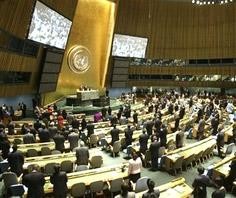 The 62th session of the United Nations General Assembly opens on September 18 in New York

This will be a special session for Viet Nam as the country's bid for a UN Security Council non-permanent seat for the 2008-09 term will be decided.

It also coincides with the 30th anniversary of Viet Nam's admission to the UN.

PM Dung will look to shore up support on the vote by stressing that Viet Nam is an active, constructive, cooperative and responsible member of the international community.

He is expected to join 115 other leaders of UN member countries in the debates that will centre on global crises and conflicts, the proliferation of weapons of mass destruction, the War on Terror, environmental pollution, and climate change.

Stable growth rates of the world economy, poverty reduction, virulent diseases, millennium development goals and the United Nations reforms are also expected to be hotly debated.

On the sidelines of the sessions, PM Dung will meet with leaders of other countries and international organizations, as well as US politicians and businesspeople.

According to some foreign sources, the White House has decided to vote in favor of Vietnam's bid for a non-permanent seat on the UN Security Council. An official announcement will be made during the meeting between PM Nguyen Tan Dung and President G.W. Bush in New York.

The decision also received strong support from senior officials in the US National Security Council and the Department of State.

US Secretary of State Condoleeza Rice said the US was doing so to help Viet Nam expand its operation and play a significant role in the international area.

It also demonstrates the commitment to support Viet Nam made by US President Bush when he met with Vietnamese President Nguyen Minh Triet at the 15th APEC summit in Sydney.