Prime Minister Nguyen Tan Dung accompanied by his wife and a high-level delegation arrived in Saint Petersburg yesterday to start his first visit to Russia in his capacity as the Vietnamese PM.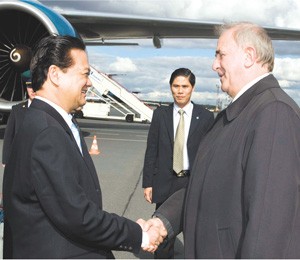 A Russian FM's representative receives Vietnamese PM Nguyen Tan Dung at the Airport Pulkovo in Saint Petersburg on Sept. 9, 2007.
On the same day, Mr. Dung laid a wreath at the Statue of the Mother-Motherland and visited a few historical places in the city. Today he will hold talks in Moscow with his Russian counterpart, Mikhail Ephimovich Fradkov.
"The Vietnamese PM said that the Vietnamese party, government and people gave first priority to developing the traditional relationship between Viet Nam and the Russian Federation, which is a strategic partner and close friend of Viet Nam", Russia's RIA-Novosti quoted Mr. Dung from an interview the previous day.
Several agreements on interregional and business projects will be signed during his four-day visit. After Russia, Mr. Dung will visit the Czech Republic and Poland.
Trade between Russia and Viet Nam reached US$1 billion in 2005, far below its potential.
Viet Nam sells farm commodities, processed food, fish and light industrial goods to the Russians, and buys steel and machinery in return, though this latter trade has been declining since 2006 because of the cheaper steel and machinery from China and nearby countries.
Oil and gas account for the largest proportion of Russian-Vietnamese trade, and contribute 29% of Viet Nam's revenue.
The Russians have 48 industrial and commercial projects with total investment capital of US$301 million in Viet Nam, mainly oil and gas, other heavy industry, transportation, postal services and fish.
They are also involved in training the Vietnamese, and provide 250 scholarships to Viet Nam every year. Besides these, there are 5,000 Vietnamese people studying in Russia without scholarships.