Prime Minister Nguyen Tan Dung requested drastic measures be taken to achieve a gross domestic product (GDP) growth rate of 5.8 percent this year during his final speech at the Government's regular meeting on September 29-30.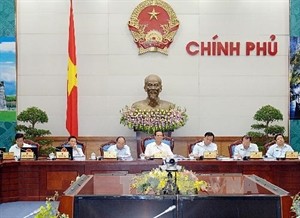 The regular meeting took place on Sept 29-30 (Photo: VNA)
He pointed out an array of economic problems, including weak aggregate demand, great bad debt, slow disbursement of investment capital, budget imbalances, and several uncompetitive sectors.
Highlighting the rapidly increasing government debt, the Cabinet leader ordered Finance Minister Dinh Tien Dung to review public and bad debts, and propose solutions to the situation.
He called upon relevant agencies to implement urgent and comprehensive measures to attract more investment in industries, agriculture, services, tourism, and infrastructure, particularly in rural areas.
PM Nguyen Tan Dung also told them to work harder to increase the export of Vietnamese goods to potential markets.
Mentioning that Vietnam's labor productivity of 61 percent is only average amongst ASEAN members, slightly ahead of Myanmar and Cambodia, he ordered the National Council for Sustainable Development and Competitiveness Improvement as well as authorized agencies to look into the issue and develop solutions.
Meanwhile, the leader also demanded more efforts be undertaken to fulfill the target of having 1.6 million people newly-employed in 2014. So far, 1.5 million people have secured jobs this year.