Prime Minister Nguyen Tan Dung has asked ministers and heads of governmental agencies, as well as local authorities, to promptly carry out major tasks for this year following the recent Lunar New Year (Tet) festival, the longest annual holiday in Vietnam.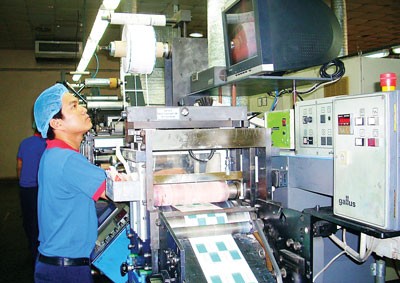 Liksin Corporation starts its production after Tet holidays. (Photo: Sggp)
In his February 10 dispatch, the PM noted that the Ministry of Agriculture and Rural Development directs localities to ensure food supply after the Tet festival and production of winter-spring crops while promoting the country's traditional Tet tree-planting activities and activating this year's forestation plan.
The Ministry of Labour, War Invalids and Social Affairs is tasked with coordinating with local people's committees to ensure labour forces are available for manufacturing business, especially at industrial parks.
Meanwhile, the Health Ministry is requested to intensify its work preventing diseases that run a high risk of breaking out during the winter-spring period. In particular, the ministry is striving to stop an outbreak of the deadly H7N9 strain of the bird flu virus and other epidemic diseases from invading Vietnam. It is also requested to continue ensuring food hygiene and safety.
The government leader asked the Ministry of Culture, Sports and Tourism to organise festivals in a safe, healthy and economical manner, while encouraging the masses to embrace frugality, especially during festive events.
He also hailed agencies and localities nationwide for promptly implementing the policies of the Party and State bringing a warm Tet to people who have rendered services to the nation, social welfare beneficiaries and those living in remote and border areas.-VNA