Prime Minister Nguyen Tan Dung has approved a strategic program that will help create more jobs and provide more and better vocational training during the period 2012-2015.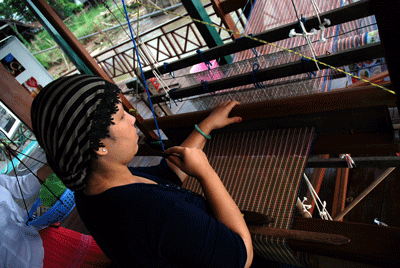 A Khmer girl in the Mekong delta province of An Giang is weaving a brocade mat. People of ethnic minority groups will benefit from the program (Photo: U. Phuong)
The program aims at creating jobs for 0.8 million laborers through projects supported by the National Fund for Jobs.
The total capital investment for the program will be VND30,656 billion (US$1,471,000), under which 26 high quality vocational training schools will be developed, including five of international standards, to increase the number of trained laborers to 40 percent by 2015.
Under the program, 30 percent of the labor force will seek jobs through employment agencies.
Around 120,000 laborers from poor  economic backgrounds, living close to the poverty line; beneficiaries of social policies; people with distinguished services to the country during wartime; households whose farm lands have been reclaimed; and people of ethnic minority groups, will all benefit from the program.