Prime Minister Nguyen Tan Dung has approved the master plan for Hanoi to be completed by 2030, with a vision to make the capital city into a futuristic modern city.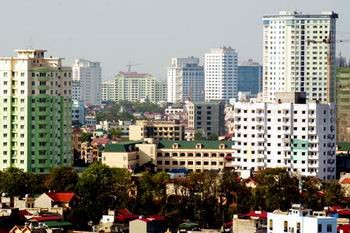 View of Hanoi City
The master plan aims at developing the capital city of Vietnam in a sustainable, synchronized and modern manner with state of the art infrastructure yet preserving the traditional, cultural and historical heritage with focus on environmental protection.
The master plan will be implemented over an area of 3,344 square kilometers of the City of Hanoi. It will comprise a metropolis, five satellite urban areas and several towns linked together by ring roads and other approach roads leading to the city center.
The metropolis will be broadened to become the political, economic and cultural hub of the country. By 2030, it will have a constructed area of over 55,000 hectares and population of 4.6 million people.
The five satellite urban areas will include Hoa Lac, Son Tay, Xuan Mai, Phu Xuyen and Soc Son. Each will function autonomously with its own unique characteristics. Hoa Lac, in the west of the city will be a science, technology and education center.
Son Tay in the northwest will be a cultural, historical and tourist area. Xuan Mai in the southwest will develop as a small scale industry, handicraft and trade village. Phu Xuyen in the south will comprise of industrial zones and cargo trans-shipment areas. Soc Son in the north will focus on airline, industry and services.
Headquarters of the Party, National Assembly, State and Government will be located in Ba Dinh District. Offices of the city Party committee, People's Committee and People's Council will be around the Guom (Sword) Lake.
Universities will cluster in suburban areas and the number of students will reduce to about 300,000 within the city center. Health clinics for treatment of highly communicable diseases will be located in outlying areas.
Regional highway systems will be built connecting Hanoi to surrounding provinces like Thai Nguyen, Lao Cai, Ha Long, Hai Phong, Hoa Binh, Ninh Binh and Thanh Hoa.
Eight more bridges and tunnels will be built across the Red River and five bridges will be constructed to span the Duong River and the Da River.