Prime Minister Nguyen Tan Dung attended the National Assembly's question-and-answer session on Monday. The delegates said afterwards that the PM's answers give them extreme confidence for the direction of the country.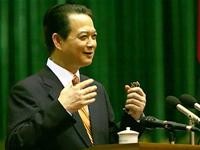 Prime Minister Nguyen Tan Dung

While fielding questions on the state of the national economy amid the current trend of rapid integration into the global market, PM Dung said the government is creating concerted measures to ensure high economic growth and sustainability.
He emphasized that economic development must integrate into the global stream to increase the competitive strength of the national economy.

The government leader criticized the limited capacity of Viet Nam's administrative reforms, however, stating that national enterprises are still hindered, which affects consumer growth and stunts efforts to make economic breakthroughs internationally, which are particularly acute now that Viet Nam has become a member of the World Trade Organization.

He emphasized that efforts to complete a legal system for the market economy should be coupled with effective administrative reforms in order to create a transparent and favorable business environment for foreign investments, again bolstering integration into the global economy and improving the quality of life for all Vietnamese by providing more employment opportunities nationwide.

PM Dung went on to say that by effectively restructuring the state mechanisms currently in place to create economic strategies and development policies, Viet Nam could clear barriers pointed at by foreign investors and utilize the resources of their investments.

While discussing these national economic issues, the PM went on to say that measures should be taken to control and stabilize market prices, and that price hikes must not be allowed to hamper the GDP growth rate. He also mentioned that food prices, especially for rice, must be ensured stability.

When the questions shifted away from the economic sphere, they gravitated toward the issue of corruption. While answering NA deputies' questions about the fight against corruption and squander, PM Dung said the governmental ministries and agencies have attuned their policies to follow the anti-corruption action plan.

The PM did go on to acknowledge, however, that the only way to bring forth any genuine progress in the fight against corruption is by getting the cooperation of local leaders, who he said at times are only paying lip service to the issue.