The 'witch's broom' disease has destroyed over 11,000 hectares of longan fruit orchards in the Mekong Delta, causing serious losses and worries for farmers in the region.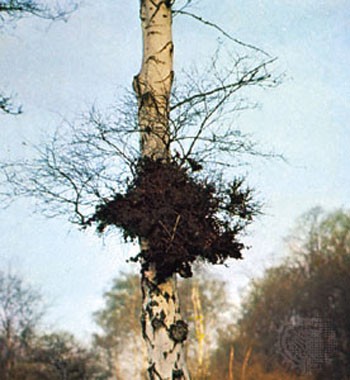 The 'witch's broom' disease can infest all woody trees, to look like this
A witch's broom is a disease or deformity in a woody plant where many twigs are densely clustered together, resulting in a mass of shoots that resemble a broom. This symptom can develop on many types of plants and can be caused by various microorganisms or insects.

Nguyen Van Muoi from Ke Sach District in Soc Trang Province said that several farmers have suffered losses from the 'witch's broom' which has caused longan blossoms to wither and fall.
Several farmers are facing sleepless nights worrying about the wide spread havoc this disease is causing to their longan fruit cultivation in Chau Thanh District, the main longan growing district in Dong Thap Province.
Huynh Van Nho said that he has spent millions of dong buying repellents, but things have not improved. The only way out is to cut down all the longan trees and replant new ones.
According to the agriculture department of Chau Thanh District, 96 percent of the total 3,680 hectares of longan growing area is now infested with witch's broom.
The longan growers say the disease has been spreading since 2008 but till now they have not found a cure for it. All orchards in communes like Tan Nhuan Dong, Phu Huu, An Nhon and An Phu Thuan are under attack from this disease, which has reduced more than 70-90 percent of the fruit output.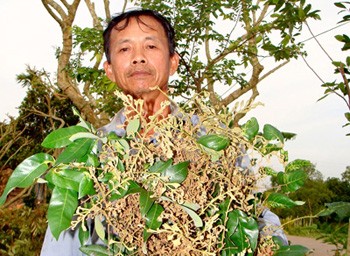 Longan farmers badly affected by the 'witch's broom' disease in the Mekong Delta (Photo: SGGP)
Tien Giang Province has also reported that 70 percent of longan fruit growing area in Cai Be District is facing a similar situation. The 'witch's broom' is also rampant in Long An and Tra Vinh Provinces.
Doctor Nguyen Minh Chau, head of the Southern Fruit Research Institute said that no cure has yet been found and the institute has sent officials to guide farmers with measures to cope with the disease. He recommended farmers switch to planting other varieties of longan that have higher resistance to the disease.
Several companies in Dong Thap and Tien Giang Provinces are concerned about the continual shortage of longan fruit in the market which has also resulted in cancellation of export orders from Asian and European countries.