The Vietnam National Oil and Gas Group (PetroVietnam) should expand its cooperation with Russia and other powerful countries in the oil and gas sector so as to have a higher position on the world's oil and gas map, said President Nguyen Minh Triet.
President Triet made the statement at the group's conference held in Hanoi on Jan. 27 to implement this year's plan.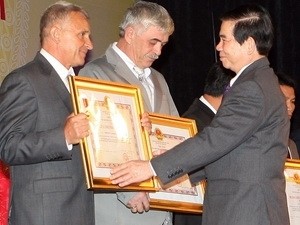 Vietnam News Agency photo - Vietnamese President Nguyen Minh Triet (R)
The President commended PetroVietnam's contributions to the national economy. With the operation of the Dung Quat Oil Refinery, the group attained a record revenue of 478.4 trillion VND, equal to 24 percent of the country's GDP, he said.
Furthermore, PetroVietnam has made important contributions to hunger eradication and poverty reduction, and defending territorial sovereignty at sea, he added.
Apart from the Party and State's leadership and the efforts of PetroVietnam's staff, PetroVietnam's big achievements over the past years were attributable to Russia's assistance, affirmed the President.
The present and future oil and gas sector will be the spearhead of the country's economy, said Triet, noting that the group should uphold the strength of solidarity and intellect to maintain its key role in the economy.
President Triet has presented the Friendship and Labour Medal to seven units and individuals for their outstanding achievements in production and business. Trade and Industry Minister Vu Huy Hoang also handed emulation flags to representatives of PetroVietnam and 12 units. The conference also presented certificates of merits to more than 40 initiatives which generated benefits worth more than 220 million USD and more than 1 trillion VND when put into use.
Chairman of PetroVietnam's Management Board Dinh La Thang said that PetroVietnam, the country's leading economic locomotive, will focus on human resources development to implement the five-year socio-economic development plan, and act as a tool to regulate the country's macro economy, social security and defend the country's territorial sovereignty.
In 2011, PetroVietnam plans to tap 15 million tons of crude oil and 8.2 billion cu.m of gas, produce 12.3 billion kWh of electricity, 5.6 million tons of petroleum and earn 486 trillion VND.
At the conference, Deputy Minister of Education and Training Bui Van Ga handed over the Prime Minister's decision on establishing the Vietnam Oil and Gas University in the northern province of Vinh Phuc to the group.