Dao Xuan Hoc, Deputy Minister of Agriculture and Rural Development, has asked authorities and residents to join hands and be proactive in coping with the serious flood situation.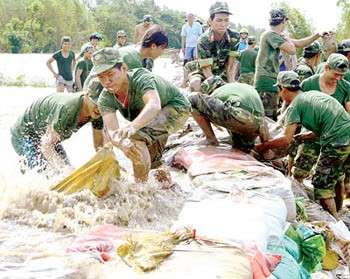 Army soldiers struggle to fortify a dyke section in Hong Ngu District of Dong Thap Province (Photo: SGGP)
During a recent interview with Sai Gon Giai Phong Newspaper, Mr. Hoc was asked by a concerned reporter how the Mekong Delta would manage in coping with a similar situation as that in Thailand today.
According to Mr. Hoc, no place is safe from flooding. Even the mountainous regions faced flash floods and mud slides. Natural disasters were beyond the control of man, but we can limit the destruction by prior preparation and learning to cope with worst case scenarios.
Having learnt from the recent flood havoc, provincial authorities must have ready plans to evacuate residents in emergency situations and not wait until flooding has already occurred. On the other hand, people should learn to be more self-sufficient and prepare for such crisis situations before they occur, he added.

Floods combined with high tide caused massive damage in the Mekong Delta this year.
The ministry is planning to inspect the irrigation system in the delta and submit a project report to the Government very soon. The entire Mekong Delta region needs a fortified dyke and sluice system to be able to utilize the floodwaters for farming production but also prevent it from causing destruction to crops and property.

According to Mr. Hoc, the project will give priority to the two low lying areas of Long Xuyen Quadrangular and Dong Thap Muoi, which are usually the worst affected during the flood season. However, the project will cover all the way to the lower reaches of the Mekong River.