People in the central region of Vietnam are in a hurry to harvest their crops, store rice in higher locations and stockpile adequate amounts of food supplies and other essential items to be able to survive through the annual flooding season this year.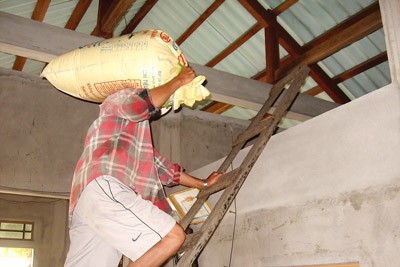 A resident stacks up rice at a higher level to avoid dampness during the flooding season in Thua Thien-Hue Province (Photo: SGGP)
Thousands of households in Quang Dien District in Thua Thien-Hue Province are busy these days preparing to be better equipped to brace the inevitable flooding.
Le Thi Luyen, a resident in Quang Thanh Commune in Quang Dien District, said that her family has completed harvesting 3.5 tons of rice, before it gets inundated as it did last year.
Groceries stores in the district are full of customers coming in to purchase food items and other essential daily need commodities.
Nguyen Ngoc Tien, head of Agriculture and Rural Development in Quang Dien District, said the district is located at the lower reaches of Huong, Bo and O Lau Rivers. As a result, 50 percent of the communes and towns are the worst affected by the flooding.
The district has stockpiled 60 tons of rice, 10,000 packets of instant noodles, 1,000 liters of kerosene and 1,000 liters of petrol, in case residents are stranded and cut off by floodwaters, as in previous years.
By September 26, the Department of Industry and Trade in Thua Thien-Hue Province had mobilized businesses to stockpile 300 tons of rice, 100 tons of instant noodles, 100,000 liters of cooking oil, 250,000 schoolbooks and several other necessary commodities.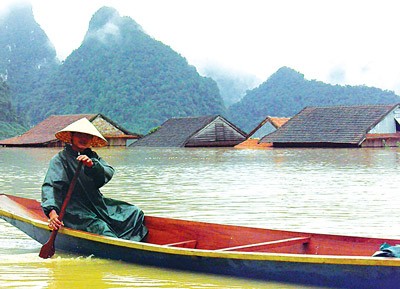 Residents have built thousands of stand-by boats in Quang Binh Province (Photo: SGGP)
Vo Kim Cu, chairman of the People's Committee in Ha Tinh Province, has instructed contractors to speed up progress on projects to upgrade sea and river dykes and main traffic roads.
He has also instructed relevant departments to stock up 55,000 instant noodle boxes, 420 tons of rice, drinking water, kerosene and other commodities. The Department of Finance has been ordered to keep handy VND10 billion (US$476,000) for emergency relief aid.
Meantime, the People's Committee in Quang Binh Province said that local army forces and police will maintain watch on boats on the five main rivers, to rescue residents in case of high flooding.
Local people have also built thousands of boats and hundreds of rafts, heightened their houses and constructed hundreds of extra mezzanine decks.
In related news, about 44,500 hectares of rice has been inundated due to surging floodwaters in Bac Lieu and Kien Giang Provinces. Hundreds of hectares of rice lie submerged due to heavy rainfall in Soc Trang and Hau Giang Provinces over the last few days.