Le Van Thi, chairman of the People's Committee in the Mekong Delta province of Kien Giang, said on Thursday that there was a severe paucity of funds to develop basic infrastructure on Phu Quoc Island, such as electricity lines and a water supply system.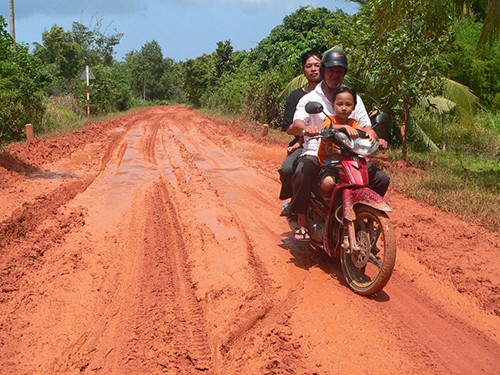 A mud road on Phu Quoc Island in Kien Giang Province (Photo: NLD)
He was speaking at a meeting with a Government delegation on the mechanisms and policies to develop Phu Quoc Island, a district of Kien Giang Province.
Poor infrastructure has prevented investors from investing in the island, he said.
Mr. Thi has proposed to the Prime Minister and the Politburo to look into the development of Phu Quoc Island by 2020, and appoint the provincial People's Committee headed by a deputy chairman to manage the development of the island.
He suggested establishing six specialized departments for the management board and the Phu Quoc District People's Committee to work towards development of the island.
During 2013-2015, the Government should allocate VND4,500 billion (US$216 million) to improve main traffic projects in Phu Quoc.
Nguyen Phong Quang, deputy head of the Southwest Region Steering Committee and head of the Government delegation, admitted of lack of capital for infrastructure development in Phu Quoc Island. Funds earlier released from the Central budget had long since run out.
Mr. Quang said that he will propose to the Government and relevant ministries to increase fund capital for the development of basic infrastructure on Phu Quoc Island.