General Secretary Nong Duc Manh and President Nguyen Minh Triet met voters respectively in Thai Nguyen Province and Ho Chi Minh City on May 4 to listen to their concerns like getting bank loans, farming, and urban planning.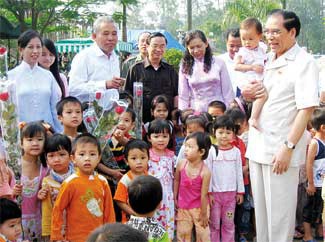 General Secretary Nong Duc Manh (R) at Tan Cuong Pre-school in Thai Nguyen town on May 4. He was visiting Thai Nguyen Province to meet with voters. (Photo: SGGP)
He listened to voters in Tan Cuong Commune, Thai Nguyen town, who wanted the Government to support farmers by providing more soft loans so that they can buy agricultural equipment and seeds and breed animals.
They also said commune-level officials should be paid better so that they can focus on their work.
There is a shortage of clean water every dry season and this problem has not been resolved for several years, they added.
The Party leader ordered local authorities to tackle problems facing farmers, help them boost agricultural production, especially that of tea, a province specialty.
He said the province and its capital, Thai Nguyen town, should tap their natural resources and apply advanced agricultural technologies to create more competitive products and develop a modern agricultural model that can become an example for the whole country.
The province should adopt proper policies and mechanisms to improve farmers' incomes, eliminate poverty, build a sustainable economy, and protect the environment, he said.
The same day in HCM City, President Nguyen Minh Triet, economist Tran Du Lich, and lawyer Nguyen Dang Trung met with voters.
Many voters said that a number of articles in the draft Law on Urban Planning remained vague and overlapped regulations in the Land Law and the Construction Law.
Many voters said they did not favor creating the post of Chief Architect since the draft law fails to mention the duties attached to it.
It is unclear whether the Chief Architect would be a consultant or manager, they pointed out.
To deal with public complaints, voters demanded that officials be sent to localities where the complaints are made to resolve them thoroughly and effectively.
After receiving complaints from some voters, President Triet said he would urge the city to deal with urgent problems like land clearance and compensation.
At a meeting in the capital Hanoi voters told National Assembly chairman Nguyen Phu Trong: "The NA should play a role in overseeing the bauxite mining projects in the Central Highlands to ensure their economic, security, and environmental benefits."
Mr.Trong promised that an assessment of the bauxite projects would be included in a report to be submitted by the government to the NA at its coming meeting.
During his recent trips abroad, many overseas Vietnamese too told him that such oversight [by the NA] is needed, he said.
Death penalty for drugs should not go: voters
Nearly 200 voters in Ho Chi Minh City's District 5 met with NA deputies Huynh Dam, Huynh Thanh Dat, and Dao Nhieu Linh on May 4.
Discussing the death penalty, the voters said it should remain in place for drug trafficking. They also demanded more severe punishment for sexual abuse of children.
Most complained about the rising prices, the bad food hygiene situation, and other social issues.