Party General Secretary Nguyen Phu Trong hosted a reception in Hanoi on July 2 for former US President Bill Clinton, who spoke highly of Vietnam's socio-economic development achievements and its increasing role and position in the region and the world.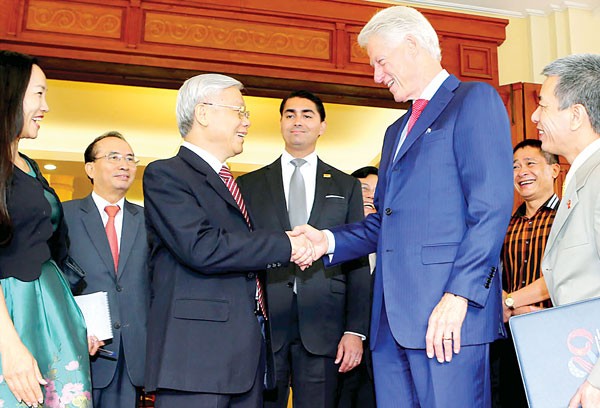 Party General Secretary Nguyen Phu Trong hosted a reception in Hanoi on July 2 for former US President Bill Clinton (Photo:VNA)
Clinton emphasised progress in bilateral relations, especially in the two-year implementation of the comprehensive partnership, reaffirming that the US treasures and wishes to further enhance its multi-faceted cooperation with Vietnam.
He stressed the need to intensify exchanges of high-ranking delegations, highlighting the importance and historic meaning of the upcoming US visit by the Party chief.
The Party leader appreciated the contributions made by the former President and his wife Hillary Clinton to removing trade embargos and normalising and boosting relations with Vietnam.
He hailed the support of the Clinton Foundation for Vietnam's efforts to alleviate poverty, address war aftermaths and protect the environment.
He affirmed the Vietnamese Party and State's consistent policy of treasuring and enhancing the Vietnam-US relations for the long-term interests of the two peoples.
Host and guest also exchanged opinions on several regional and international issues of mutual concern.
On the same day, the former President was also received by State President Truong Tan Sang, who spoke highly of joint efforts to surmount war aftermaths, intensify cooperation in defence security and realise trade commitments.
He praised the US's view on resolving East Sea-related issues through peaceful measures via international law and by following the Declaration on the Conduct of Parties in the East Sea as well as working toward the formation of a Code of Conduct in the East Sea.
Clinton stated that the US attaches importance to its ties with Vietnam and will continue its assistance for the country across sectors.
Regarding the East Sea issue, he suggest parties involved respect each other, share responsibility and address dissimilarities through full-participation dialogues and avoiding any unilateral actions.
After 20 years of normalised bilateral diplomatic ties, trade has seen positive growth, Clinton said, adding that Vietnam holds a strategic position and numerous potential for economic development.
He expressed hope for the early completion of negotiations on the Trans-Pacific Partnership agreement, saying that once signed, Vietnam will see more advantages during economic integration.