Party General Secretary Nguyen Phu Trong's four-day visit to Japan due to begin on September 15 focuses on strengthening political trust and fostering economic links between the two countries.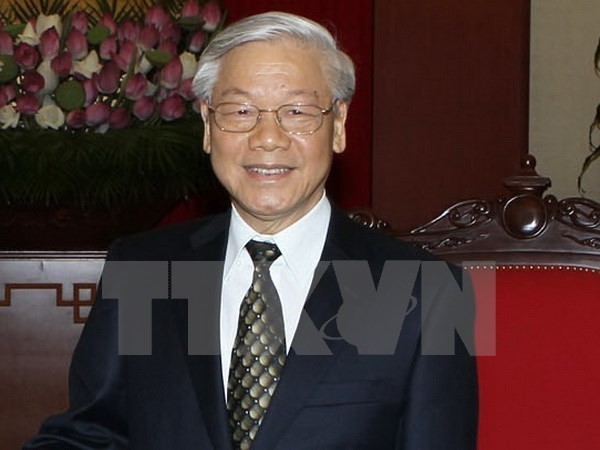 Party General Secretary Nguyen Phu Trong (Source: VNA)
The trip forms part of Vietnam's major diplomatic activities in 2015 to actualise the country's foreign policy of independence, self-determination, multilateral diversification and intensification of relations.
Vietnam and Japan established diplomatic ties in September 1973. In 2002, the two countries set up a framework for the "trustworthy and long-term partnership" during the visit to Japan by Party General Secretary Nong Duc Manh.
The two countries elevated their relationship to a strategic partnership for peace and prosperity in Asia during the former Party chief's second official visit to Japan in 2009.
The relationship continued to be lifted to an extensive strategic partnership for peace and prosperity in Asia in March 2014 which marked the State-level visit to Japan by President Truong Tan Sang.
Over the past years, the two countries' political trust has been consolidated, as evidenced by regular visits and exchanges of delegations at both high-level and grassroots levels, as well as the maintenance of dialogue mechanisms.
Furthermore, Japanese Prime Minister Shinzo Abe selected Vietnam as the first destination for his overseas trips after taking office in January 2013.
Japan is the largest official donor, the second-largest foreign direct investor and the fourth-largest trading partner of Vietnam and the first among the Group of Seven (G7) to recognise the country's market economy.
In 2014, two-way trade exceed US$ 27.6 billion, of which Vietnam's exports stood at more than $14.7 billion and imports at nearly $13 billion. In the first half of this year, the figure reached $13.9 billion.
During his Japan visit last July, Prime Minister Nguyen Tan Dung and his Japanese counterpart Abe consented to basically conclude bilateral negotiations within the framework the Trans-Pacific Partnership (TPP) agreement.
Also during the visit, the Japanese side pledged to actively consider the grant of $3 billion in official development assistance (ODA) in the 2015 fiscal year to nine projects in Vietnam, focusing in infrastructure, energy, human resource development, and combating climate change.
Collaboration in such areas as agriculture, education and tourism, and between localities, has also flourished with a range of cooperation documents inked by the two sides.
With about 85,000 Vietnamese living in Japan and 11,200 Japanese in the Southeast Asian nation, people-to-people and cultural exchange between the two countries is on the highest peak.
Party General Secretary Nguyen Phu Trong's upcoming visit, thus, is expected to comprehensively foster and deepen the Vietnam-Japan extensive strategic partnership for peace and prosperity in Asia.