Communist Party of Vietnam (CPV) General Secretary Nong Duc Manh has expressed satisfaction at the recent fine development of relations with neighbouring China, which he said has contributed to peace, stability and development in the region.
The CPV leader made the statement while meeting with Liu Yunshan, Politburo member, Secretary in the Central Secretariat and Head of the Central Propaganda Department of the Communist Party of China (CPC), in Hanoi on September 7.
Party leader Manh said he was satisfied with the constant development of the "comprehensive strategic cooperation partnership" between Vietnam and China.
The relations have brought in practical interests to the two peoples and contributed to peace, stability, cooperation and development in the region and the world as a whole, he emphasised.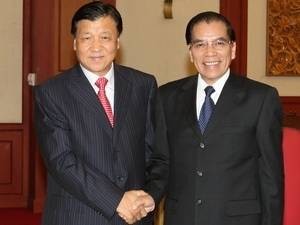 General Secretary Nong Duc Manh (right) receives Chinese Politburo member Liu Yunshan.
The CPV leader welcomed the success of the youth festival of the two countries in China's Guangxi province last month, describing the event as of significant importance in public education, especially the young generations of the two countries, in solidarity, friendship and comprehensive cooperation between Vietnam and China.
For his part, Liu, who is leading a CPC delegation to a workshop on communist party theory in Vietnam, emphasised that China has always attached importance to traditional neighbourliness and solidarity with Vietnam.
He said the Chinese Party, State and people would do their utmost and join hands with Vietnam in boosting their comprehensive strategic co-operation partnership.
Earlier in the day, the Chinese communists held talks with a Vietnamese delegation led by To Huy Rua, Politburo member, Secretary and Head of the Information and Education Commission of the CPV Central Committee.
Host and guest focused on the theory and ideology of the two parties. They went deeply into the orientation and plans of cooperation between the CPV Information and Education Commission and the CPC Propaganda Department, especially in 2010 - the year of Vietnam-China Friendship.
In addition to bilateral relations, the two delegations discussed international and regional issues of mutual concerns.