Tuyen Quang province should focus on developing its potentials in agro-forestry, mining, tourism, construction material and, at the same time, improving the ethnic minorities' living conditions, said Party General Secretary Nong Duc Manh in his three-day visit to the northern mountainous province which concluded yesterday.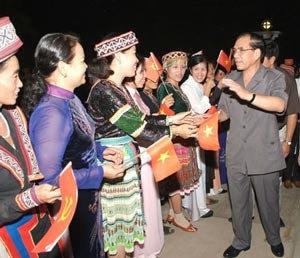 Party General Secretary Nong Duc Manh is welcomed by ethnic minorities
In talks with local officials, the Party leader said that despite many achievements gained by the locals in recent years, Tuyen Quang province still had to face many unsolved problems including poverty, low level of production skills, underdeveloped infrastructure, and limited economic potential.

Therefore, he asked all local organizations and sectors to draw more effective plans for the province's socioeconomic development. The province should also modernize the current farming practices that rely heavily on plants and domestic animals and move in the direction of commodity production.

Moreover, more attention should be paid to the province's potentials in agro-forestry processing, construction material manufacturing, and tourism.

Regarding the people's living conditions, local officials need to focus on helping ethnic minorities resettle into their lives while preserving their ethnic character and cultural diversity, consolidate unity throughout the province, and prevent social evils, General Secretary Manh said.

In terms of the building of industrial parks, the Party leader stressed that the province needs to have a synchronous plan to avoid spontaneous development.

The Party leader also urges a more effective training program for officials so that every official is a model living and working in accordance with the country's laws and regulations.

General Secretary Manh also visited the construction site of the Na Hang Hydroelectric Plant, the Tan Trao revolutionary relic, Uncle Ho's underground hideout, and many other places.