Party General Secretary Nong Duc Manh and his delegation made a two-day working visit on July 28-29 to southern Binh Duong province, the shining star of the country's economic development.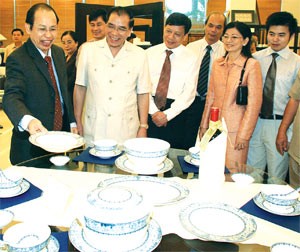 Party General Secretary Nong Duc Manh (2nd L) visits Minh Long 1 Ceramics Company in Binh Duong
With 28 industrial zones, Binh Duong province, which is leading the country in the number of Industrial Zones (IZs), has so far attracted 940 foreign investment projects capitalized at nearly US$6 billion and 277 domestic investment projects valued at more than VND5.9 trillion.
In recent years, the province recorded an annual economic growth rate of 15 percent. In the first six months of 2009, despite the global economic crisis, the province still kept its growth rate at 7.1 percent.
Working with local authorities, the Party chief asked them to re-check on-going projects in order to restrict environmental pollution and select new projects that are knowledge-based and friendly to the environment.
Besides investment in developing factories, he also asked the province to pay attention to building accommodation and social welfare facilities for workers. He appreciated the province's plan to build modern residential areas with healthy ecological conditions.
He spoke of the province's advantages in geographic location, being next to Ho Chi Minh City and near to Central Highlands provinces, and said the province in its development strategy should build up connections with key southern economic provinces as well as others.
To meet the increasing demand from IZs for human resources, the Party leader urged the province to focus more investment on education and training, and to have policies to attract resources in developing vocational training schools.
During the visit, Party General Secretary Manh visited some of the province's IZs and companies, presented gifts to Heroic Vietnamese Mothers and paid tribute at the province's Fallen Soldiers' Cemetery.