Party General Secretary Nong Duc Manh has called on the southern province of Tay Ninh to better utilise its geographic location as a border province and its relatively proximity to HCM City, in order to hasten economic development.
The Party leader made the comments during his tour of the province, which borders Cambodia and is a part of southern Vietnam's most important economic zone.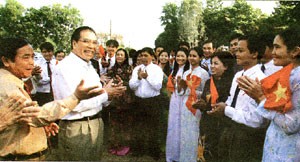 General Secretary Nong Duc Manh talks with workers at the Tan Bien Rubber company in the southern province of Tay Ninh.
General Secretary Manh, said Tay Ninh Province should define its key industries with a focus on taking advantage of industrial zones near its borders and agricultural production.
The province, he added, should also accelerate restructuring so as to increase the proportion of the industry and service sectors economy, and introduce appropriate policies to attract greater domestic and foreign investment into the region.
The authorities themselves should look at new ways to improve both quality and efficiency. These should be their primary targets in order to sharpen the local economy's competitive edge, Party Chief Manh stressed.
In 2006, Tay Ninh Province registered a GDP growth rate of 17.8% over the previous year. Its per capita GDP was recorded at nearly US$733 and export value, at $404mil.
The province is now home to 127 foreign-invested projects with total investment amounting to more than $482mil.