Mr. Nong Duc Manh, General Secretary of the Communist Party, visited Ho Chi Minh City yesterday where he lavished praise on city leaders for their efforts to reduce poverty and continue socio-economic development.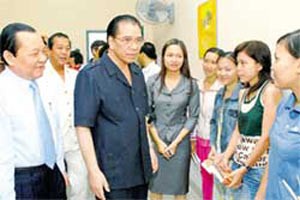 Party General Secretary Nong Duc Manh (C) visits workers workers at Japan's Nissei Electric Company in the Linh Trung Export Processing Zone.
Visiting the Linh Trung Export Processing Zone, the Party leader hailed the achievements of foreign enterprises and expressed the belief that many more would invest in the area now that Viet Nam is accelerating the process of modernization there.
He added that "after 12 years of operation, the zone has become one of the nation's leading export processing zones. More and more foreign enterprises are operating in the area, proving that Viet Nam is considered to be a reliable economic partner by other members of the international community."
To date, there have been roughly 125 investors in the zone, of which 113 are foreigners from Japan, the EU, South Korea and China. Total investment capital in the zone has reached US$500 million.
The Party leader's delegation visited workers at Japan's Nissei Electric Company in the zone and toured its two five-storey buildings, which were built for 1,500 female workers as set out in the company's housing policy.
Nissei Electric has spent over US$3 million on the complex, providing them with many modern amenities, including free washing machines, televisions, ovens, hair dryers and a library. The Party leader lauded the company for improving the standard of living of its workers.
Also the same day, the delegation visited military and police headquarters in the city to offer thanks for providing excellent security services during the major conferences hosted by the city last year.
Later, during a visit with the Communist Party committee in district 6, Mr. Manh praised leaders there for referring poor people to local companies to find employment. He also gave a nod of approval when informed that most poor people in the district had managed to find stable jobs with good incomes and that everybody had access to clean water.
The Party leader told local authorities to not only give poor people a "fishing rod" but also teach them "how to catch fish" and also encouraged them to develop the local party into a robust force, enhancing their "fighting spirit" and leadership pool.