Party General Secretary and National Assembly Chairman Nguyen Phu Trong has affirmed Vietnam's consistent policy of attaching importance and giving priority to developing neighbourliness, traditional friendship, comprehensive cooperation and long-lasting sustainability with Cambodia.

The Party leader expressed his pleasure with the increasing development of the fine relationship between the two countries while receiving, in Hanoi on June 30, Sai Chhum, head of the Standing Board of the Cambodian People's Party (CPP) Central Committee and second Vice President of the Cambodian National Assembly.
Mr. Trong congratulated the CPP and the Cambodian people on the achievements they have recorded over the past years.
He expressed his belief that the Cambodian people, under the supervision, management and operation of the Senate, National Assembly and the Royal Government of Cambodia, with the CPP playing a core role, will gain new achievements in implementing the Party's political platform for the 2008-2013, successfully building a Cambodian state of independence, peace, democracy, neutrality, non-alignment and thriving development.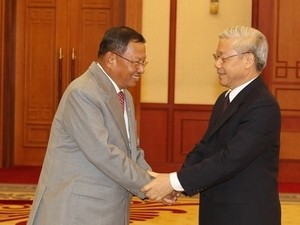 Party leader Nguyen Phu Trong (R) receives Sai Chhum from Cambodian People's Party.
Sai Chhum informed Trong of Cambodia's socio-economic, political development and achievements in national construction and development, and thanked the Party, State, army and people of Vietnam for their whole-hearted support and assistance to the CPP and the Cambodian people over the past 60 years, especially saving the Cambodian people from the genocide regime and helping them in national recovery and development.
The CPP and the Cambodian people will spare no effort to join the Party and people of Vietnam to maintain and foster their good neghbourliness, traditional friendship, comprehensive cooperation and long-lasting sustainability between the two Parties and the two states of Cambodia and Vietnam, the CPP official affirmed.
Earlier, Sai Chhum and Truong Tan Sang, Politburo member and permanent member of the Secretariat of the Communist Party of Vietnam Central Committee, held talks, informing each other of their respective Party situation. They exchanged views on international and regional issues of common concern, discussed orientations and measures to boosts solidarity, traditional friendship and comprehensive cooperation between the two Parties, the two countries.
Both sides signed a cooperation agreement between the two Parties for 2011-2012.